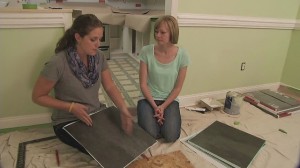 Tile flooring can be really expensive, but we've got a solution that packs all the style you want, without the punch to your wallet!  Using inexpensive vinyl you can transform dated floor into an expensive, slate-look-alike!
Step by Step for Vinyl Flooring
We purchased vinyl peel and stick flooring- it's very inexpensive and available at any home improvement store.
Vinyl tile usually comes in 12×12 or 18×18 inch squares, but to give it a higher-end feel, we used a straight edge and utility knife to cut it down to rectangular tiles.  Using the 18×18 squares, we were able to get 3 6" rectangles from each.
After our tiles were cut down, we used a measuring tape and chalk line to mark the center point of the floor.  To apply this vinyl tile, we just had to peel and stick- it's like a great big sticker book for adults!
Read more at newsnet5.com