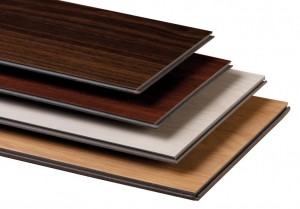 Machinery manufacturer Homag offered this assessment of its sales of flooring machinery.
SCHOPFLOCH, GERMANY – Another record-breaking year in 2013, ideally positioned at the forefront of future worldwide flooring trends: LVT (Luxury Vinyl Tiles) are now among the most popular floor coverings, and are rapidly closing the gap to the current market leaders tiles, laminate and carpet.
Following a record year in 2007 with an incoming order volume of over 50 million Euro, the flooring team at HOMAG Group Engineering topped this performance with another outstanding year in 2013, registering incoming orders valued at over 60 million Euro. Accounting for the biggest single rise in the figures were sales of double-end profilers for LVT flooring, which almost doubled in comparison to the previous year.
Demand for LVT is booming, primarily in the USA. With a sales increase of over 8% in this market, manufacturers are clearly looking to expand their production capacity. The main trend in the USA is for 3 mm thick material with Click/Loc profile. While the focus in Europe is on high-quality, wear-resistant products in medium batch sizes, in China there is a growing trend towards greater automation and mass quantities. It is here where the greatest number of new LVT production plants is currently being constructed.
LVT is gaining ever greater market shares in all three regions due to the on-going introduction of new products in different strengths, qualities and designs. Whichever method is used – full surface gluing or planks with Click/Loc profile – there are plenty of arguments in favor of vinyl flooring: its excellent hygiene properties, good moisture resistance for successful application in wet rooms, or its good cost-to-performance ratio.
Read more at woodworkingnetwork.com