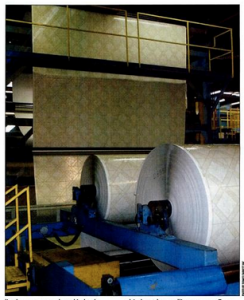 A very interesting article on how vinyl floors are made, originally published in the December 2002 issue of Popular Mechanics.
Who isn't charmed by the rich warmth of a polished hardwood floor? And when it comes to bathroom elegance, it's difficult to pass up real ceramic tile. Living room luxury? It's wall-to-wall for most. All of these flooring solutions have their place. But, if you want to be practical too, there's an essential alternative you shouldn't leave out—plastic.
That's right. Covering your floor with plastic—just like homeowners have been doing for the past 40 years—is the low-maintenance, high-performance solution to just about any well-trodden area. Of course, we don't call it plastic flooring, we call it vinyl flooring. And if you think it sounds bland, utilitarian and just a little too industrial, it's time to take a closer look. Today, there are vinyl flooring options for every budget, every decor and every taste. The key to all the variation is in the manufacturing process.
Step 1: Vinyl Basics
Vinyl flooring is made of polyvinyl chloride (PVC), with various compounds added to tailor the material's characteristics such as color, flexibility, hardness and sheen.
The primary element in vinyl flooring is a simple vinyl sheet. To produce this, manufacturers suspend the vinyl in a liquid, creating a mixture that can be spread into a thin layer by a rolling process. From here this plastisol, or liquid plastic, coat is dried through an application of heat and air that fuses the material into a tough, durable sheet.
Vinyl sheets produced in this manner can then be cut into 6-, 9- or 12-in. squares to create solid vinyl tile. This type of vinyl flooring is called homogeneous because the material and any decorative elements are the same from top to bottom. Vinyl composition tile (VCT) is a variation of solid vinyl tile with synthetic fillers and binders. Solid tile typically has a satin finish that requires periodic buffing or waxing to keep it looking new. Because the color and decorative elements extend through the tile, they don't wear away with heavy use.
Read all the steps at instructables.com